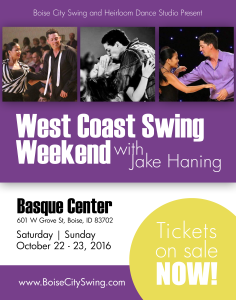 Heirloom Dance Studio and Boise City Swing present a West Coast Swing weekend with Jake Haning. Get your tickets at http://www.boisecityswing.com/register
Here's some more info about Jake:
-JAKE'S BIO & QUALIFIATIONS-
Jake Haning is a young, enthusiastic, creative dance instructor specializing in West Coast Swing & ballroom dancing. He started learning how to dance 20 years ago, & he has since found his passion in competing & teaching others. With a strong focus on technique & willingness to share his talents & experience, Jake has taught all over the United States, England, France, & Australia.
By implementing the principles of musicality, he facilitates the natural desire for movement & expression through dance which he believes can fulfill in others the desire for challenge, growth, & freedom.
Junior DVIDA Certified.
GPDIA Instructor Certified West Coast Swing
5th Classic at US Open 2009
1st NASDE tour 2010
2016
1st Sophisticated jnj Palm Springs
2nd Sophisticated SS Palm Springs
1st All-Star jnj Palm Springs
1st All-Star jnj Swingtime in the Rockies
2nd All-Star SS Swingtime in the Rockies
2nd All-Star SS Liberty Swing
1st Sophisticated SS Liberty Swing
2nd Sophisticated jnj Liberty Swing
2nd All-Star SS Swing Diego
Champion SS Finals 5280
Champion JnJ Finals 5280
2015
3rd All-Star JnJ The Challenge
1st All-Star SS The Challenge
4th All-Star JnJ Philly Swing
1st All-Star JnJ Dallas Dance
3rd All-Star JnJ Summer Hummer
1st Open JnJ Austin Rocks
5th Showcase Liberty Swing
2nd All-Star JnJ Liberty Swing