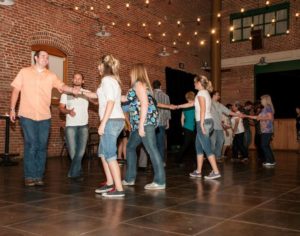 Let's face it, finding something to do around the Holidays can be tough, especially the Friday after Thanksgiving. You've got family from out of town, everything is a mess, and you have stuffed yourself with too much stuffing. It's time to get out of the house, and stretch your legs a little bit.
We have been putting on an annual Post-Thanksgiving dance for over 10 years, and it has always been a huge success! Every year tons of latchkey dancers, with nowhere to boogie, come to our event to dance their hearts out and decompress from the holiday.
Since the beautiful Mardi Gras ballroom is and event center we can hold an all ages event, while also having access to their full bar (naturally the bar area is only 21 and up). Feel free to bring the whole family and share the dance floor across generations.
No experience or partner is needed in order to attend!
Cost – $10 at the door (yes we do take cards)
Black Friday deals will also be offered on dance lessons from Heirloom Dance Studio. These will make perfect gifts come Christmas!
There is a lot planned for this year, so make sure to stay tuned for more information.
7:30 pm – Doors Open
8:00 pm – Beginner Lesson with Joel Hunter and Stephanie Hinton
9:00 pm – Open Dancing Starts
We will have different DJ's throughout the night:
-Courtney Hartman
-Kelli Hunter
-Joel Hunter
12:00 pm – Dance Ends